3 Delicious Recipes to Keep you Warm this Fall
Uncategorized

Tuesday, August 24, 2021
With the weather cooling down, the rain outside your window, and Thanksgiving just around the corner, now is the perfect time to warm up the house with some fall recipes. Created by Chef Liana Robberecht, our Executive Chef at Trico LivingWell, these recipes are a hearty taste of autumn and are perfect for family dinners, date nights, or Thanksgiving itself!
*All recipes are gluten-free and vegan!
1) Pickled Crabapples
Perfect in jams and jellies, with roast pork and turkey, or as a tangy addition to a charcuterie board, pickled crabapples add a pop of tang to otherwise sweet or salty dishes. Follow the steps below to make these delicious pickled crabapples.
+photo
Ingredients:
3 cups whole crabapples, stemmed
½ cup red vinegar
1 cup apple cider vinegar
1 lemon sliced
4 stems of tarragon
1 cup apple juice
2 cups white sugar
2 fresh bay leaves
3 whole star anise
1/2 cinnamon stick
1 orange sliced
4-6 whole peppercorns
¼ tsp chili flakes
1 tsp salt (or to taste)
Method:
Place all ingredients into a pot, making sure crabapples are covered with liquid. You can add more apple juice if you need to.
Bring apples and liquid to a boil, then remove pot from heat. This step you have to watch — do not let the apples continue to boil or they will become mushy and overcooked. Let apples cool down in liquid.
Remove core from apples — this step is a labour of love: time consuming, but worth it. Place back into poaching liquid until you are ready to serve.
2) Roasted Parsnip Chestnut Stew
Tired of the cold? Need something to warm you up? Chef Liana's roasted parsnip stew will leave you feeling cozy and deliciously full. With simple and hearty ingredients, this meal is an excellent meatless alternative. Follow the recipe below to make roasted parsnip stew for 4.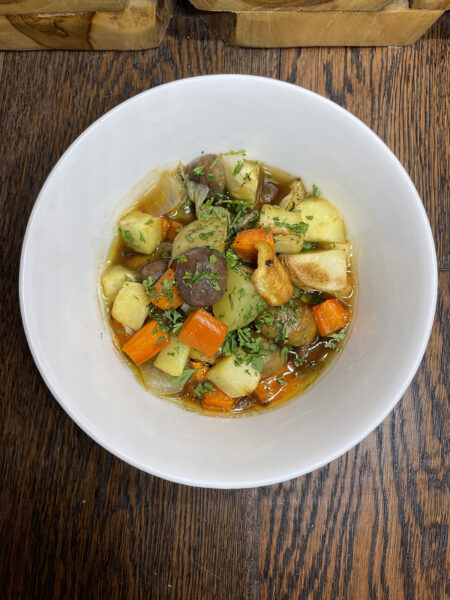 Ingredients:
2 large parsnips, peeled and medium diced
1 large carrot, peeled and medium diced
1 small white onion, peeled and medium diced
1 cup peeled chestnuts
1 tbsp grated ginger
¼ cup white wine
1 tbsp roasted garlic
2 whole star anise
2 bay leaves
4 tbsp cornstarch
4 cups vegetable broth
2 tbsp olive oil
2 tbsp chopped fresh parsley
Method:
Preheat oven to 375°F.
Toss parsnips, onions, potatoes, chestnuts, carrots with olive oil, and season with salt and pepper. Roast in oven for approximately 45 minutes. Remove from oven when vegetables are slightly golden in colour.
While vegetables are roasting, in a sauce pot combine vegetable broth, ginger, garlic, bay leaves, star anise, and bring to a boil, then let simmer for 45 minutes. Remove star anise and bay leaves, thicken broth with cornstarch, and add roasted vegetables. Heat, season to taste, and add chopped parsley before serving. Enjoy!
3) Port Cranberry Sauce
If your Thanksgiving meal includes turkey and mashed potatoes, one of the best accompaniments to pair it with is cranberry sauce! But if you're worried about regular cranberry sauce tasting too bitter, or too much like jam, then you need to try this recipe! Port, a red Portuguese dessert wine, adds sweetness to the sauce with just a hint of weight added by the extra spirits. Follow the steps below to make this excellent port cranberry sauce.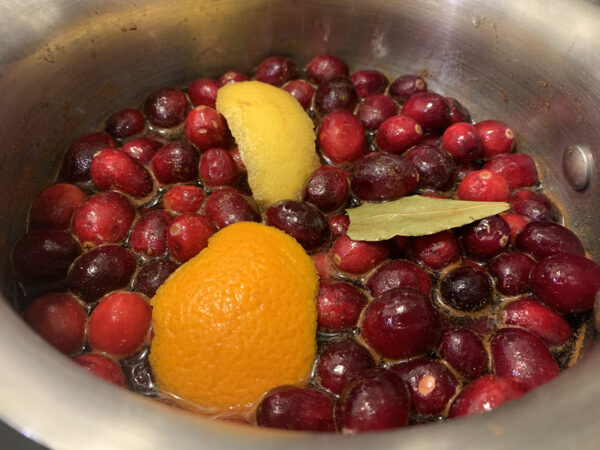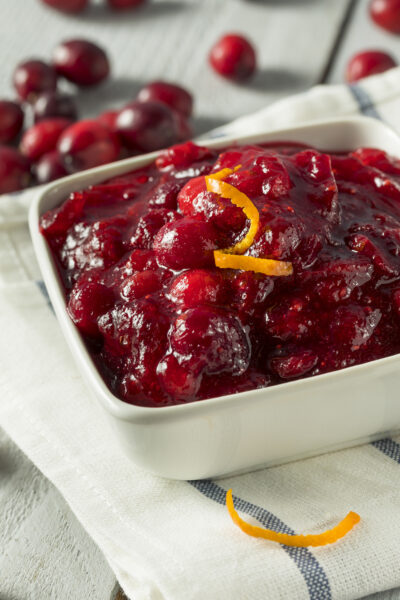 Ingredients:
1 bag of fresh whole cranberries (approx. 3 cups)
2 cups of water
1 cup orange juice
1/4 cup Port
cup brown sugar
4 bay leaves
1 cinnamon stick
2 whole star anise
1 whole orange cut into slices
½ lemon slices
6 black peppercorns
1 tbsp cornstarch
Pinch of salt
Method:
Add all ingredients into pot and bring to a boil (except cornstarch). Lower heat to a simmer, reduce liquid by a third. Sift in cornstarch, stir and cook for another 10 minutes.
Remove bay leaves, star anise, cinnamon stick, orange and lemon slices, juniper berries, and peppercorns.
Remove 1/3 of whole cranberries, then blend remainder in food processor. Add back in the whole cranberries, chill & serve.
Happy cooking! For more lifestyle and home décor ideas, make sure to check out our other blog posts while you're here!