Sustainable living the Trico Way
At Trico Homes we care deeply about the impact our business has on our society, the economy, and the environment (people, profit, and planet). Sustainable home building isn't something we just do — it's ingrained in our culture. As part of Trico's desire to consciously create the very best places to live, we also want to make a positive and lasting impact in our community.
What makes Trico Homes a Sustainable Builder?
Trico is proud to be Canada's first and only Certified B Corp homebuilder. With over 3,000 certified companies worldwide, the B Corp community has a unified goal to use their business as a force for good by meeting rigorous international standards of corporate responsibility, verified social and environmental performance, public transparency, and legal accountability.
Trico became certified in 2012 because we believe businesses have a responsibility to be caring corporate citizens with the power to bring positive, sustainable change to our community. Strong communities are also the foundation on which great homes are built – and Trico is proud to lend our name and ongoing support to several community groups, non-profit organizations and charities in Calgary.

At Trico, we always endeavor to use locally manufactured products and responsibly sourced raw materials, and divert waste to recycling facilities rather than in our landfills whenever possible. In 2020 alone, Trico recycled over 5.6 million pounds of waste from our single-family construction sites, and 660,000 pounds of waste from our multi-family construction sites. This benefits the environment, and also supports local businesses in our community.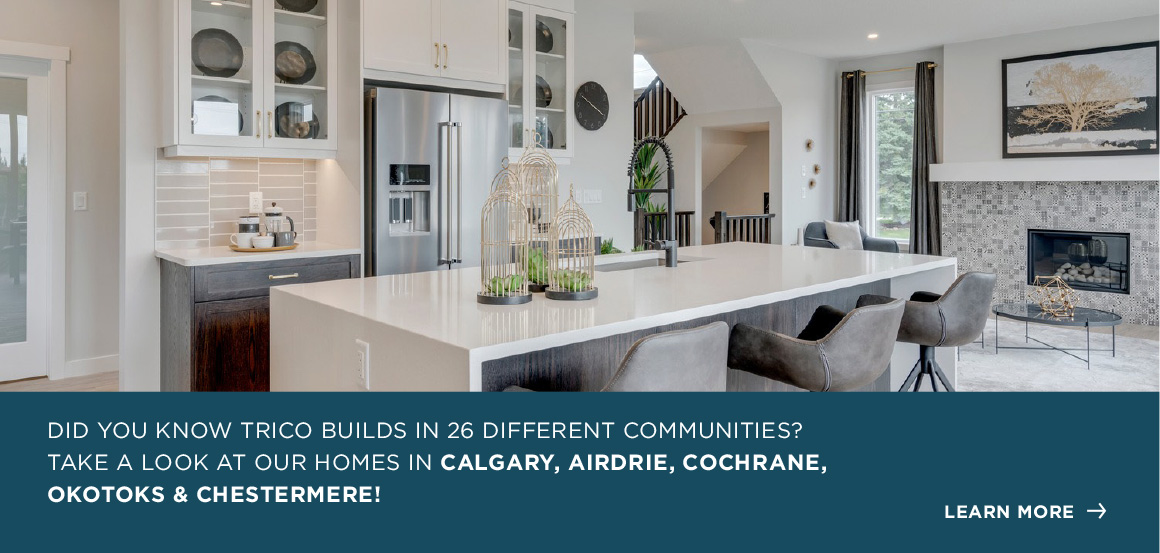 Adding Sustainable & Energy Efficient Practices to Every Trico Home
With every home we build, one of the key metrics we focus on is energy efficiency. While it might not be apparent at first glance, many of the features we add — from the largest appliances to the smallest light bulbs — are designed to improve the home's energy performance. A few of these features include:

How Do We Pick Which Energy-Efficient Fixtures to Use?
We recognize that there are many different solutions to creating an energy-efficient and eco-friendly home. While adding more energy-efficient products in your home is never a bad thing, we'd like to point out that installing these items does not always translate into greater energy savings. It is more dependent on how the product is used.
As an example, solar panels are perceived to help generate extra energy and reduce utility bills. However, these panels may not perform as well as some may think. During our long winters, heavy snow on rooftops limits the solar panels' ability to collect sunlight.
That's why we focus on including the items that will provide you and your family with the most optimal value for your investment. However, if there are other energy-efficient features you would like to add to your new home — such as an EV port in the garage or a high-efficiency tankless hot water tank — our team will gladly work with you to make it happen. We can also provide more information about the technical aspects of the feature and help you decide if it is best for your family and home.

How Will You Benefit From Living in a Trico Home?
We stand behind our work and will always strive to lead by example. Trico's approach is unique because we use real data from real homes to determine our energy performance metrics.

Backed by factual data collected from nearly 1,000 homes built by Trico, we are proud to say that, on average, a Trico home performs 21.12% higher than the National Energy Code of Canada's minimum prescriptive standards. Some of our homes have performed even higher at 40% above code standards. (*Performance metrics are based on the assumed average energy usage of a household with 2 adults and 2 children, at home 50% of the time.)
What does this mean? By performing above code standards, Trico homeowners can save on average 21.59 gigajoules of energy per year, or the equivalent of:

Trico has also enlisted the help of Energy Advisor Mike Lucas, an industry leader in energy analysis and a residential air quality investigator, to help us measure and optimize the energy performance of our homes. By working with industry professionals, we not only continue to ensure and guarantee the homes we build are of a high standard that will never compromise the comfort of our homeowners, but leave a lasting impact that continues for future generations.
Do you have other questions about our homes?
Contact us below & we're happy to help!
Want to save this information to read later on?
Great news — you can download all the important facts & information into a handy PDF!