5 Beautiful Calgary-area Hikes to Get You Outside this Summer
Events & Family Fun

Tuesday, June 22, 2021
With the long winter months behind us and the sun beginning to shine again, now is the perfect time to get outside and explore more of Alberta! If you're looking to hit the trails but don't want to go too far from Calgary, these 5 hikes are perfect for you. Hiking doesn't have to be an out-of-the-way experience. This guide will help you reach scenic views within 130 km of Calgary.
1) Grassi Lakes
Located near Canmore, Alberta, the Grassi Lakes trail is 4.3km long and takes about 1.5 hours to complete. It runs in a convenient loop, with glittering teal pools located at the middle of the loop. These lakes are the perfect place to spot some wildlife and relax beside the calm, clear waters. Grassi Lakes offers trails to suit both beginner and skilled hikers, with a partially paved easy route, and a more difficult rocky, waterfall-laden trail. These trails are suitable for all ages, although the more difficult trail does involve some steep stair-climbing. Dogs are allowed but must be kept on a leash. And if you are interested in rock climbing, Grassi Lakes offers the opportunity to climb on part of an old coral reef!
Time – 1.5 hours
Length – 4.3km
Distance from Calgary – 110km
Level – Easy to Moderate

2) Picklejar Lakes
If you're looking for a trail with a higher degree of difficulty, Picklejar Lakes is the right one for you! A 10.3km hike, Picklejar Lakes is meant for more experienced hikers as the ground is often still snowy during summer and there is a steep incline at certain parts. It's important to wear proper footwear for this 4-hour hike, as the trail varies between dirt, loose rock, mud, and snow. Dogs are also allowed on this trail, as long as they remain on a leash.
Time – 4 hours
Length – 10.3km
Distance from Calgary – 130km
Level – Difficult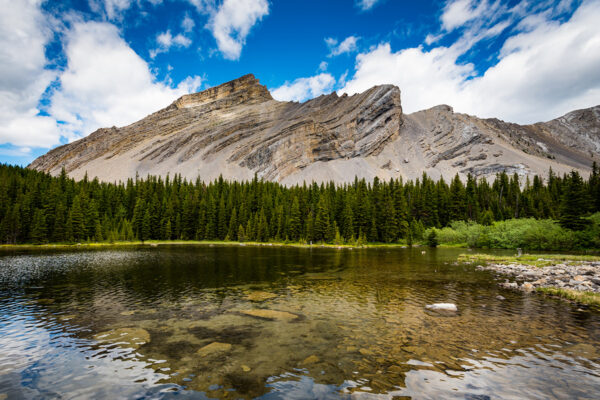 3) Galatea Lakes/Lillian Lake
For a hike that's a bit of a challenge, try out Galatea Lakes! Located in Spray Valley Provincial Park, Galatea Lakes is a 16.9 km hike best trekked in the summer months. Prepare to be amazed by beautiful waterfalls and crisp views of Lillian Lake at the top. Be sure to wear proper hiking footwear and layered clothing to combat the occasional wind and loose rocks. While hiking this trail, enjoy the different sights of mountains, forest, streams, lakes, waterfalls, and wildlife – but watch out for bears! This hike is dog-friendly, as long as they are kept on a leash.
Time – 5-6 hours
Length – 16.9km
Distance from Calgary – 127km
Level – Moderate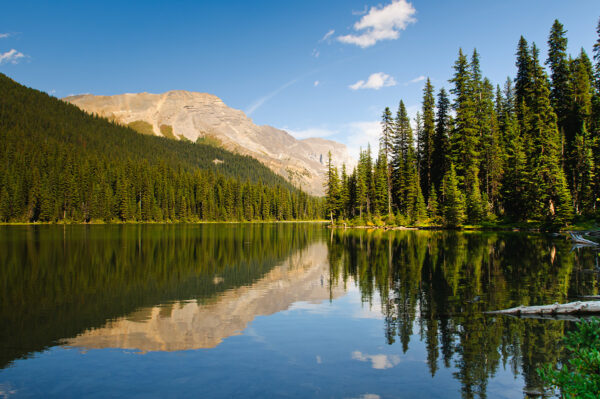 4) Horseshoe Canyon
Interested in exploring where the dinosaurs once roamed? Check out Horseshoe Canyon! A prehistoric adventure, this is your chance to visit Alberta's Badlands, where incredible rock formations from the cretaceous period are waiting to be explored. This is a shorter, family-friendly hike, with washrooms and lots of parking. While the trails are flat and heavily travelled, the descent into the canyon is quite steep and not recommended for wheelchairs or strollers. Dogs are allowed but must be kept on a leash. Make sure to dress in layers, as it can get windy down in the canyon.
Time – 1-2 hours
Length – 4km
Distance from Calgary – 119km
Level – Easy
5) Elbow Falls
Want to see the rush of a roaring waterfall? Elbow Falls offers the opportunity to do just that, with a paved path leading up to great vantage points right beside the Falls. This is more of a walk than a hike, with the trail just 0.8 km to the Falls. However, there is plenty of exploring to do around the area in Bragg Creek, such as the Beaver Flats Trail, which takes you through the forest beside active beaver ponds! This is a great place to see fuzzy little goslings and amazing beaver dams!
Time – 1 hour
Length – 0.8km
Distance from Calgary – 66.4km
Level – Easy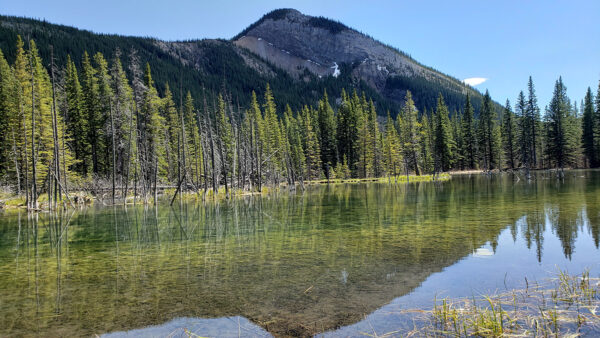 Make sure to check the trail and weather conditions before your hike, and pack the necessary gear (we're talking water, sunscreen, bear spray) that you might need. Happy Trails!