5 Reasons to Buy a Duplex
Featured

Home Buying Tips

Tuesday, December 13, 2022
Have you ever driven through a neighbourhood and seen two homes side-by-side that basically mirror one another? In Calgary, these homes are commonly known and referred to as duplex, semi-detached, side-by-side, or paired homes. While they share a common wall, each half is considered as an individual single-family home.
In recent years, duplex homes have become a popular choice for many buyers that aspire to own a home with more privacy, without breaking the bank. Whether you're a first -time buyer or are looking to downsize to a smaller home, there are many reasons a duplex home may be right for you. Specifically, it's these 5 top reasons why duplexes are home to consider:
1) More Square Footage for Your Money 
On average, a duplex home is priced lower compared to a laned or front garage single-family home, despite having a comparable number of bedrooms, bathrooms, and square footage. Why the price differences, you ask? One main reason is because it's built on a smaller homesite. You pay less for the land, and since there's no need for two side yards (unlike a detached home), you can free up at least 4 additional feet of space inside!
2) Environmental Advantages of Duplexes
Since the shared common wall (also called a party wall) can provide heating and cooling for both homes, this allows for win-win savings in your wallet and the environment too! Every party wall is also constructed with building code improvements that ensures greater soundproofing and fire protection.
In addition, building on a smaller homesite means you reduce your housing carbon footprint!
3) An Alternative to Condo Living
A common assumption among most first-time home buyers is that your budget can only afford you a condo or townhome. However, duplexes offer tremendous value if you are on a tight budget and there are no condo fees to worry about. Plus, you can get some top wish list features such as yard space, pet ownership flexibility and your own garage.
4)  A Chance to Have the Perfect Neighbour
One of the best parts about building or purchasing a new duplex is the opportunity to convince people you know to be your neighbours, since both homes are looking for owners!
In fact, many of Trico homeowners have done just that! We've seen numerous friends and family members purchase each side of a duplex, just because they love spending time together while also having their own private space.
5) A Smart Investment Opportunity
A great option for the first-time investor is to buy both sides of a duplex, then live in one side while you rent out the home next door. This gives you the opportunity to have a great place to live, while also keeping a close eye on your investment.
The great thing about living so close, is that you can make sure your tenants are treating your property with care. It will also likely weed out most bad tenants as they know they'll be living next to their landlord.
In this scenario, it's a good idea to set boundaries with your tenant and a solid process for letting you know about things they might need, so you don't find them knocking on your door in the middle of the night for things that aren't an emergency.
What Does Trico Homes Have to Offer?
Trico currently has five amazing duplex models; two in the northwest community of Glacier Ridge, and three in the southeast community of Legacy. What makes our duplexes special is the 'true build experience' – our homeowners get to select their lot, choose their floor plan, and have the opportunity to visit our suppliers as well as our Accents Design Centre, where you choose every detail of their new home. Our sales team is there to guide homeowners through the entire process and make sure that they have the best home building experience possible.
Features homebuyers can find standard in our duplex plans include a 9' ceiling height, engineered hardwood & tile throughout the main floor, beautiful stainless steel kitchen appliances, 1 ¼" quartz kitchen countertops, a knock-down ceiling texture, and some of the widest staircases & largest windows in the market.
These homes also have a wide range of features and options to choose from to suit your family: from an optional rear or side entrance, great if you choose our basement development option; to a 4-bedroom option; to a double garage option. With the Raeya – the most versatile of all of our duplex models – you can also choose a 5-bedroom option or a main floor bedroom, great for multi-generational living.
In Glacier Ridge, you'll find the Lancaster (1660 sq.ft) and the Mansfield (1640 sq.ft.)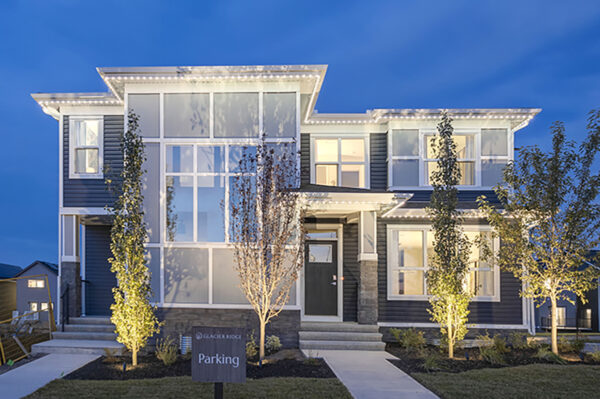 Legacy features the MacKenzie (1640 sq.ft.), Rowan II (1730 sq.ft.), and the Raeya (1802 sq.ft.).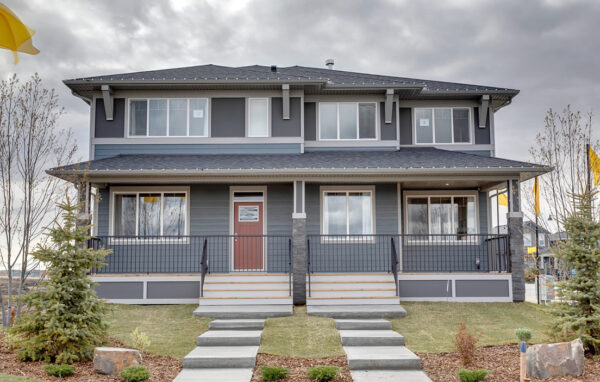 If you would like to explore the possibility of purchasing a duplex or view one of our current duplex homes, connect with our team to learn more!