Beyond the Front Door: Sales
Beyond the Front Door

Friday, January 20, 2023
Trico Homes is proud to announce Carmen De Luca as Director of Sales. Carmen has been with the company since 2013, where she previously worked as a Sales Associate, and then as the Multi-family Sales Manager, before being promoted to Director of Sales. Now settling into her new role, Carmen shares the ins and outs of single- and multi-family sales, her recommendations for first-time homebuyers, and her dedication to her team.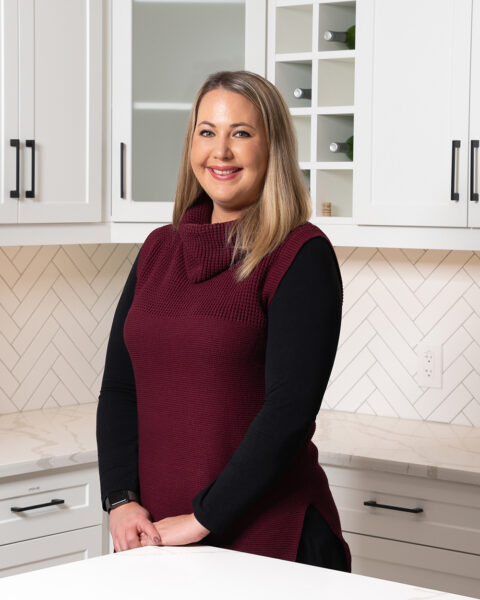 What I like about both single- and multi-family sales is that we work and build relationships with all the different teams here at Trico Homes. The product development team in particular is a really interesting team to work with, because we can provide them with current feedback from the sales associates to improve our overall product. I think it's inspiring to our sales team to know that their input and observations from their work in the field is valued and helpful to us here in the office. Working directly out of our communities also provides the sales team with the opportunity to do real-time research and trend analysis right there in the showhomes.
In addition to directing the sales team, it's also my responsibility to make sure our homeowners have a positive experience. Working in sales is about more than just meeting goals – it's also about improving our strategies and the overall customer experience.
I'm looking to buy my first home. Where should I start?
For first-time homebuyers, I do like to recommend purchasing a multi-family home because it allows you to get into the housing market, with a little bit less responsibility than a single-family home. With a multi-family home, there's typically a condo board that helps maintain the property, taking a lot of stress off you, especially as a first-time buyer. Real estate is an incredible investment, and I do recommend getting into it as soon as you can. It's one of the biggest investments of your life, and it really pays off.
What does your role as Director of Sales look like?
My role specifically entails making sure that our sales team is set up to succeed. It's up to me to ensure they have everything they need to get out into the field and sell from our sales centres and in our showhomes. I'm really proud that I can be a source of support for our sales team – I love that they all know they can come to me for anything.
As Director of Sales, I wear a lot of hats. I am my team's biggest cheerleader; their most determined firefighter; their navigator and strongest resource. It's important that I'm there for them when they need me – it's my job to keep their momentum going strong.
Having worked on the multi-family side of sales for over a year, being involved with single-family sales again as Director feels a bit like coming home. That's one of my favourite things about working here at Trico – the opportunities for growth are amazing, and continual learning is deeply valued. We are always learning new things here, and I've had the chance to see all aspects of sales, from both inside and outside the showhome. Now, I get to be the anchor for the whole sales team, while implementing what I learned as a salesperson myself to make informed decisions about the future of sales at Trico.
To be honest, I love that I can brag about this job. I'm so proud to have been at Trico for ten years, starting as a Sales Associate and working my way up to Director of Sales, I've learned so much about the homebuilding process. What can I say – I'm excited for the next ten years!
Beyond the Front Door highlights different aspects of the homebuilding process, from concept to possession, giving you an inside glimpse into what exactly goes into building a home. If you're curious about the homebuilding process and would like to know more about a certain aspect of it, send your questions to marketing@tricohomes.com.