A Personalized Experience with Trico's AI Enabled Website
Home Buying Tips

Wednesday, March 18, 2020
Buying a home marks an important stage in your life. But it can also be one of the most overwhelming experiences you can go through.
We've changed all that. Shopping for a home should be exciting and easy! Which is why last year, we made some major enhancements to tricohomes.com.
We wanted the new design and navigation to be intuitive, user-friendly and provide guests with an enhanced experience. But the best part lies behind all the photos, words and home models. It is the AI enabled engine that helps personalize and simplify your unique home search process.
And in light of current events, we remain committed to doing just that, especially from the comforts and convenience of your own home.
Harnessing artificial intelligence with our human-backed years of expertise, Trico is proud to offer the first AI-enabled website in Calgary dedicated to the home buying experience.
This means our showhomes are always open… online!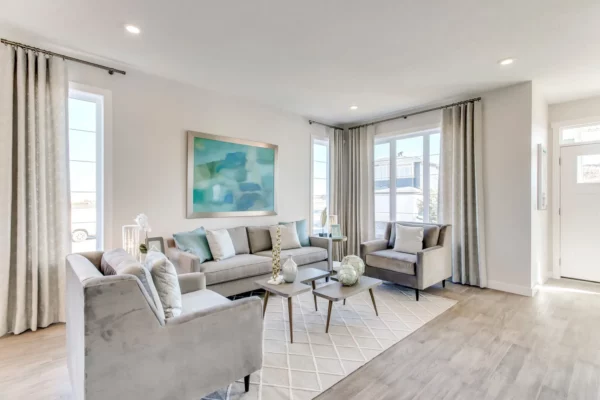 Our innovative platform is not just a placeholder for information about our homes. You may not realize it, but the webpage you're viewing has been tailored to present the homes specifically relevant to you and want you are looking for. Here's a quick run-down of how AI actually works:
Make Recommendations Based on Your Search Behaviours
With 50+ different home models and 25 communities, we're big believers in giving our customers lots of options to choose from. But… it's also a LOT of information to sift through. That's where tricohomes.com differs from your typical real estate website.
As you search through webpages and view different homes and listings, our website learns about your preferences to help you have the best possible experience. The site will then help you quickly filter your choices based on your personal criteria and recommend other home options that you may not have considered or known about in other communities you may want to consider.
Neat, right? But there's more!
One-Stop-Shop for Home Buying Resources That You Can Download
It's no longer a problem if you can't make it to the showhome during regular hours. Visit us when it works for you.
And thanks to the many resources we offer, it's entirely possible to do so.
At any hour of the day, you can go on virtual tours of Trico's showhomes via our photo and video galleries. If you come across one you really like, you can view the floorplan, learn which communities it is available in and even find an available homesite in the community of your choosing. You can easily download these files to save for later or print them out. We also provide a built-in mortgage calculator on each webpage to help you calculate if the home you've been eyeing is within budget.
We appreciate that choosing a community is an important consideration in your home choice. That's why we have included an interactive map where you can quickly see the designated schools and interesting facts like community demographics, population and even median home sale prices in any area. Our community pages also provide helpful overviews of the area and even a distance calculator so you can figure out commute times to your favourite destinations.
Do You Prefer to Speak with a Live Person?
And our team is still here with you, ready to assist however you need, as you make this important decision! Throughout the website, you'll notice several touchpoints where you can connect with one of our human home experts. Our live chat is also there for you to ask questions and get answers in real-time. If you're reading this, it means you're already on our website! Ready to get started on your home search? Click here to experience the power of AI and view our collection of homes, quick possessions and communities.