Home

Wednesday, February 15, 2023
The word "elevation" is a term used by builders and architects that can sound very complex and confusing, but in plain terms is very easy: it's simply a reference to the home's exterior design (front, back, and side).
In architectural drawing terms, an elevation is a two-dimensional picture of the exterior façade, created to give an idea of what the finished product will look like and give the construction team the specifications from which to create the building.
When designers are conceptualizing a new home design, elevations start off in the form of hand drawings, which are then drafted out using architectural drawing software.
Exterior elevations
These drawings show a detailed, scaled and dimensional rendering of the roof and the exterior walls of your home. They indicate the facing-side, whether north, south, east or west, and are drawn from the position the facade faces. It also includes the fabrications used in the elevation, such as brick, stone, or a combination of materials.
When viewing exterior elevations, you will notice that many of them represent a certain architectural design style.
Most models will include different elevations for the same floor plan, and the buyer will get to choose the elements that appeal to their imagination and taste. These architectural styles will have names like Arts & Crafts, French Country & Contemporary, and are usually part of a set of controls put forth by the architectural developer. In that respect, while homes will share certain exterior elements, it is often possible for a French Country elevation in one community to look remarkably different from a French Country in another.
Let's take the Oxford as an example. This model has four different elevations, which are used dependant on the community controls set out by the developer: Contemporary, Craftsman, Modern, and Prairie. On the inside, the floorplan is similar (windows, for example, may be placed differently), but on the outside – remarkably different.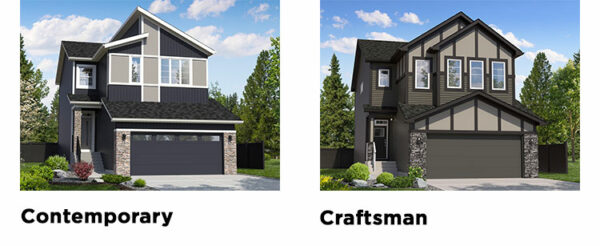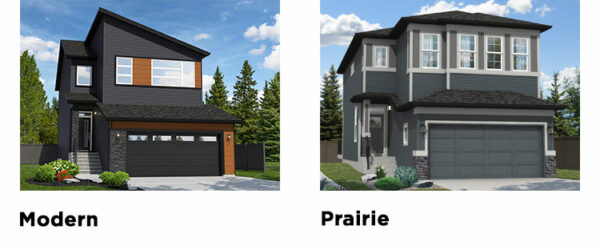 Contemporary
In terms of houses, Contemporary style embraces minimalistic elements highlighting grays, beiges and shades of white. Sleek, thoughtful, hidden details emphasize an edited aesthetic. Contemporary style offers an 'everything in its place' interior featuring designs that are high on function and simplicity and low on collections and fuss.
Craftsman
The common features of the Craftsman home style include low-pitched gable (triangular) roofs, overhanging eaves with exposed rafters and beams, heavy, tapered columns, patterned windowpanes and a covered front porch. Craftsman house exteriors emphasize harmony with surrounding nature.
Modern
Modern home design emphasizes clean lines and geometric shapes. No more are features such as arches, ornate columns, window shutters, or any outlandish ornamentation. In place of these features that at one point spoke of luxury and wealth are simple shapes and intentional asymmetry.
Prairie
The most defining characteristic of the Prairie elevation is the emphasis on the horizontal rather than the vertical. They spread out over their lots, featuring flat or shallow hipped roof lines, rows of windows, overhanging eaves and bands of stone, wood or brick across the surface.
Ask our sales team! They have tons of knowledge and can show you drawings and renderings to give you an idea of what your new home will look like.