What are the benefits of a wide-shallow home?
Home Owner Tips

Tuesday, February 14, 2023
Lots come in many shapes and sizes, some of which you may be familiar with, such as front-drive lots, laned lots, walk-out lots, corner lots, and zero-line lots.
Traditional lots, whether they be laned or front-drive, are typically longer than they are wide, but there are also lots that are wide & shallow, which means just what you'd imagine – the lots are wider than they are long.
We have a limited number of wide-shallow lots available in the northwest community of Ambleton and have created three exceptional front-drive home models designed exclusively to fit. These designs have been brilliantly executed, showcasing every advantage that a wide-shallow home has to offer.
The unique & contemporary style of these homes is reminiscent of those you would see in large metropolitan cities like Vancouver, Toronto, London, and New York. Due to their wider, extended façade, these homes not only have impressive curb appeal, with magnificent elevations, they also allow for a more generous, airy interior layout.
The biggest difference, which we believe is also the greatest advantage, is a greater versatility of space. We've had the opportunity to create bright, open & spacious kitchen and entertainment areas, as well as more private spaces, and an upper floor with something our homeowners really love – larger bedrooms!
Long, transitional spaces available in this home allow for a great deal of versatility in home furnishings such as oversized benches, hutches, and display cabinets, as well as creating the space for décor like photo galleries, sculpture, and large paintings.
Ranging from 2006 to 2209 sq.ft., these unique and exciting three-bedroom models also have a number of great features & options, including basement development options either to add a fourth bedroom, recreational room, and flex room that's perfect for a home office (such as our Highland showhome) or to develop a secondary suite.
.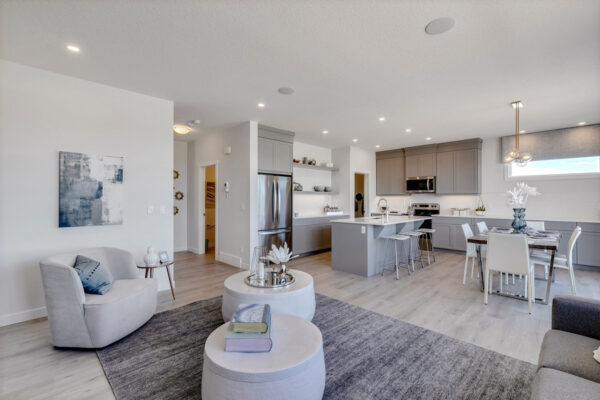 Trico currently has a number of exclusive walk-out lots available on premium south-backing homesites.
Learn more by checking out our Savannah and Woodland floorplans online, or visit our Highland in person in Ambleton at 110 Ambleside Hill NW.